Private lessons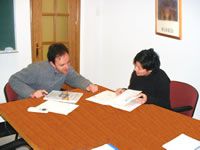 These lessons are designed according to the student's interests and schedule.
Lessons may take place at our school or at the student's home or office. If teacher goes to the student's home, there must be at least 2 lessons per session.
The student can choose dates and timetable.
Each lesson lasts 55 minutes.
The student may choose topics of interest.
Class schedules are flexible.
Fees
Look up the tuition of Private lessons.