Apartments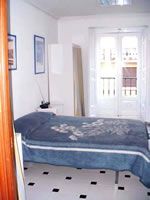 There are 3 apartments available close to the school. They consist of 2 bedrooms, a living room, a kitchen, and either 2 full baths, or 1 full bath and 1 half bath. These can be reserved depending upon availability.
The apartments are equipped with television, washing machine, refrigerator, air conditioning, heater and oven or microwave. The kitchen is provided with all appliances for cooking (pans, casserole, plates, etc.)
Each bedroom is equipped with a working desk, lamp, cupboard, night table and single bed. Bed linen and blankets are provided; towels and hair dryers are not.
Telephones are not provided, but students may install a phone on their own.
The bedrooms are designed for one person. If 2 people wish to share a room or a student has a guest, the rent will increase by 15 euros per day (minimum 2 nights). An extra bed will be put into your room.
Accommodations are available from the Sunday before your first day of class to the Saturday after your last day of class. Students who arrive before Sunday or leave after Saturday must inquire about availability.
We require a deposit of 100 euros to reserve an apartment. It will be returned to you on your last day when you return the keys, provided the apartment is in the same condition as on the day you moved in.
The rent for the apartment includes all utilities (gas, water, electricity and maintenance fees).
If the apartment is rented by 3 people, the price will be 1800 euros / 4 weeks or 600 euros per week.
In case a student wants to change his accommodation, he has to ask for it in the school's office.
If the change has justified causes, there won't be any problems for changing the accommodation. If the change is due to other causes, there will be a charge of 20 euros for the cleaning service (room and bed clothes). Changes depend on the availability and confirmed bookings.