Spanish families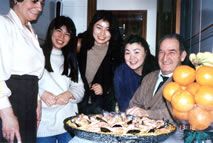 We call them "Spanish families", but usually these accommodations are with a woman of 60-65 years of age who rents a room in her flat.
All the families that house EUREKA students are located no more than 20 minutes by bus or metro from the school. We have chosen these families carefully to ensure that all students enjoy a pleasant and homelike atmosphere.
These accommodations are available from the Sunday before your first day of class to the Saturday after your last day of class. Students who arrive before Sunday or leave after Saturday must inquire about availability.
The price for accommodation with a Spanish family (120 euros per week) includes:
A single room equipped with a desk, a lamp, and heat during the winter.
Change of sheets and towels weekly.
A key to the house so that the student can come and go at any time.
Laundry once a week.
In the case that a student is not happy with the family, or would simply like to change his or her accommodation, the school will try to make the change as quickly as possible.
The school recommends to take meals with a teacher. In this way the students have the possibility to choose between 4 different menus. At the same time they can practice Spanish with a teacher and meet other students of the school, which creates a familiar atmosphere. However, in the case that the student prefers to take meals with the family, the price is the following:
| OPTIONS | FEES/PER WEEK |
| --- | --- |
| Accommodation + half board (breakfast and dinner) | 210 € |