Meals with a teacher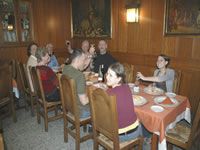 EUREKA offers a special meal program. Students can take breakfast in a cafeteria close to the school. The breakfast consists of coffee or tea with toast, pastries or churros. Lunch is also served in a restaurant close to the school.
We decided to serve meals in a restaurant to offer our students the possibility to practice Spanish with a teacher from 13:15 to 16:15. In this way the students can meet other students in a familiar atmosphere.
EUREKA has its own salon in the restaurant and fully guarantees the quality of meals, in terms of food as well as company.
Students can choose between 4 different menus.
A teacher dines with the students and all conversations are held in Spanish. This contributes to a friendly and relaxed environment in which students can get to know one another.
We offer students the opportunity to decide every day whether they want to come with us to the restaurant. Students pay at the end of the week only for the days on which they participated. Taking lunch in a restaurant with a teacher costs 12 euros per day.