School: Teaching Staff
EUREKA is a school whose unique objective is teaching Spanish as a foreign language. Since 1988 thousands of students have studied at our school. We offer a relaxed and friendly atmosphere where the students can enjoy and learn one of the most important language in the world.
Teaching Staff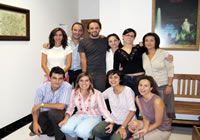 Our teaching staff is composed of teachers certified in subjects such as Classical Spanish, Spanish Language, and Art and Literature. All our teachers have been carefully chosen by the school's academic board and trained to use our exclusive method in order to ensure the greatest success.
We have a young and dynamic team, well formed to obtain the best of each participant.