School: Methodology
EUREKA is a school whose sole objective is teaching Spanish as a foreign language. Since 1988 thousands of students have studied at our school. We offer a relaxed and warm atmosphere where the students can enjoy and learn one of the most important language in the world.
Methodology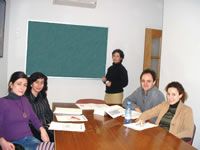 Our method is based on direct contact between teacher and student, and on establishing a relaxed atmosphere so that learning comes naturally and is reinforced through practice and communication. There is a maximum of 8 students per class.
We follow an educational system which combines the structural method with the communicational method in order to achieve a rapid and effective learning. This method has been developed by our school using and creating our own material of education in the course of years of collecting experience.