Students can have lunch with a teacher in order to practice their Spanish.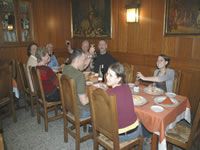 We decided to serve meals in a restaurant to offer our students the possibility to practice Spanish with a teacher from 13:15 to 16:15. In this way the students can meet other students in a familiar atmosphere.
Students can choose between 4 different menus.
We offer students the opportunity to decide every day whether they want to come with us to the restaurant. Students pay at the end of the week only for the days on which they participated. Taking lunch in a restaurant with a teacher costs 12 euros per day.