Spanish courses for adults aged about 50 years
These courses are designed for adults aged about 50 years who wish to learn Spanish in a more relaxed atmosphere than in the intensive courses. We also offer a greater variety of cultural activities for these students.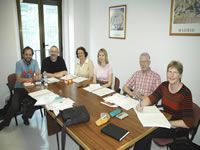 Every morning from Monday to Friday, students take Spanish classes. Each level will have different objectives. For students at a basic level, the class will consist of conversational Spanish for daily life situations - for example, ordering something in a bar or restaurant, going shopping, booking a hotel room, or asking for information about a destination. For advanced students the objective will be to expand their knowledge of Spanish culture and life. These students will learn about the civilization, literature, history and art of Spain.
In the afternoons and evenings, EUREKA offers visits to museums, theater performances and concerts, as well as activities such as cooking classes, dance classes, wine tasting classes or strolls through the city.
Students are also given the opportunity to participate in weekend excursions to places of interest close to Madrid, such as Toledo, El Escorial, or Segovia.
(*) Students less than 50 years old can participate in this type of course if they have the same objectives.
Starting Dates in 2023
May 8th to June 2nd
October 2nd to October 27th 
These courses may be taken for 1, 2, 3 or 4 weeks, but we recommend enrolling for at least 2 weeks,
In case we do not have a minimum of 5 students to open a specific course for adults, the students would be included in an Intensive Spanish Course.
Prices
Look up the price for Courses 50+.