The school is open year round and closes only on national holidays.
Starting Dates 2021
Students with some knowledge of Spanish may begin any Monday.
The beginning dates of courses for beginners are the following ones:
January 4th and 18th

February 1st and 15th

March 1st and 15th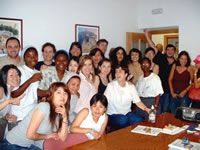 April 5th and 19th

May 4th and 17th

June 7th and 21st

July 5th and 19th

August 2nd and 16th

September 6th and 20th

October 4th and 18th

November 2nd and 15th

December 13th
All students with prior knowledge of Spanish must take an oral and written test in order to be placed at the appropriate level.
Another test is offered at the completion of each course to qualify students for a certificate based on their level of achievement.
National Holidays in 2021
January 1st and 6th

March 19th

April 1st and 2nd

May 3rd

October 12nd

November 1st and 9th

December 6th and 8th
If the student attends classes for only 2 weeks, these holidays will be compensated for extra hours of class.
*The list of National Holidays can be changed due to official law requirements, therefore new dates may be added after this publication.